Really loving this trend of the YouTube DIY girl group.
And then the variations on the theme…
Standard
Kasia Cieplak-Mayr von Baldegg is my friend and she has a really cool job. That is why I chose to profile her for the
#CoolJobs series.
Kasia's job is to search the internet for video #gems and then curate them for
The Atlantic.
 She's created one of the best online
collections
of hand picked videos I've ever scrolled through, which includes a few remixes by yours truly (#NBD). But before she dedicated her time to saving you time collecting videos you should watch over at
The Atlantic, 
Kasia's work in media included documentary television, advertising, and print. As a producer in the Viewer Created Content division of Al Gore's
Current TV
, she acquired and produced short documentaries by independent filmmakers around the world. Post-
Current
, she worked as a producer and strategist at Urgent Content, developing consumer-created and branded nonfiction campaigns for clients including Cisco, Ford, and 
GOOD Magazine
. She studied filmmaking and digital media at Harvard University, where she was co-creator and editor in chief of the
H BOMB Magazine
.
Kasia is awesome.
You're awesome.
So you both should meet.
PopCulturePirate: Hey Kasia, what are three things you wish someone would have told you about navigating your career?
Kasia Cieplak-Mayr von Baldegg: One: You will get jobs that didn't exist when you were a freshman in college. These sites called YouTube and Vimeo will change EVERYTHING.
Two: You'll learn the most from the stuff you do outside classes — doing creative stuff with interesting people. You will get gigs on the basis of these projects, and no one will ever, ever ask for your GPA.
Three: When you're unemployed or self-(un)employed keep working on your own creative projects. When you have a full-time job again you will really regret not having spent more time working on your own stuff.
PCP: Where do you go or what do you do for inspiration?
KCMVB: I spend too much time looking at screens so I try to escape as much as possible. I have a lot of weird ideas when I walk to work — it's a long walk but I like it. I like dinner parties for inspiration too. Conversations, jokes, tangents, stories, insane schemes — dinner parties generate lots of great ideas.
PCP: What's your average day like? I assume you're on the internet all day but how do you not get sucked into the internet?
KCMVB
: Not get sucked into the internet? Ha! My career got sucked into the internet so I think it's too late. Curiosity powers the process of "curating" the internet and turning it into more internet — so I let myself click on ridiculous YouTube videos, Buzzfeed links, tweets, etc. If anyone knew how I really worked, they'd be appalled. But when I find something I'm excited about I can focus for hours — watching a video will lead to discovering 
Alexander Graham Bell's tetrahedral kites
, for example, or reading about 
how astronauts filmed the moon landing
. Editing a video — forget it. It's like playing a video game. If I can't focus I use this handy little app called 
Self Control
 to block Twitter and Tumblr for 1 hour at a time. My work day basically cycles through phases of exploring and posting, with lots of emailing in between. I post the good stuff at 
theatlantic.com/video
, and tweet the random, fun, crazy stuff tagged #randomvideos.
Amazing. Thanks, Kasia!
Standard
I love a good flow chart for simple, seemingly benign decisions. The hidden truth about these charts: they are difficult to make, especially when you're personally invested in one outcome over the others. I personally have attempted to create many in an effort to cure indecision only to not be able to decide if I should perhaps go for another option. Like a bar graph. Or a pros & cons list. Oh, look at that. Another idea for a flow chart for simple, seemingly benign decisions. This one made by the wonderful Wendy M.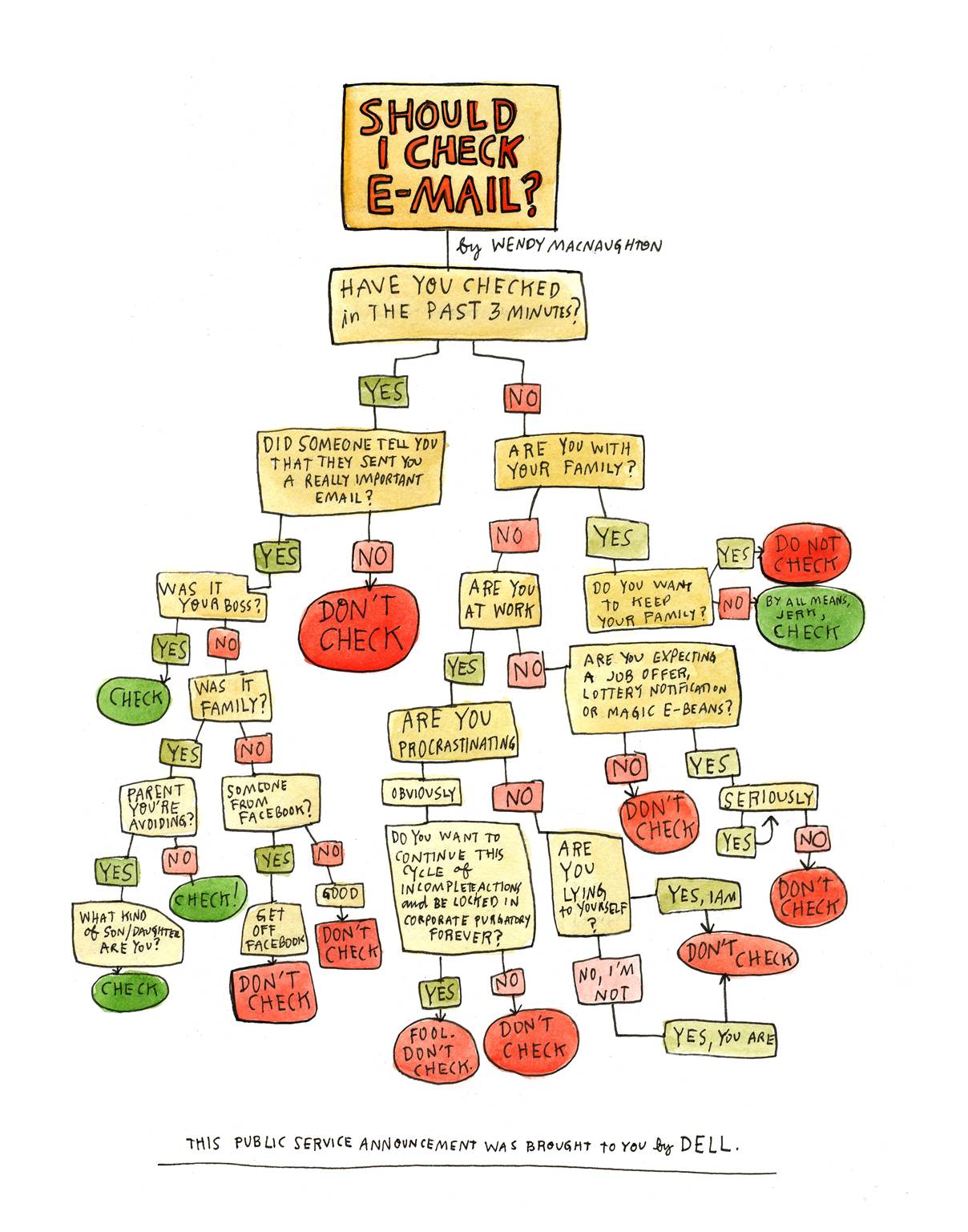 Standard